The 5 best cities in Europe for tech jobs (and how to move there)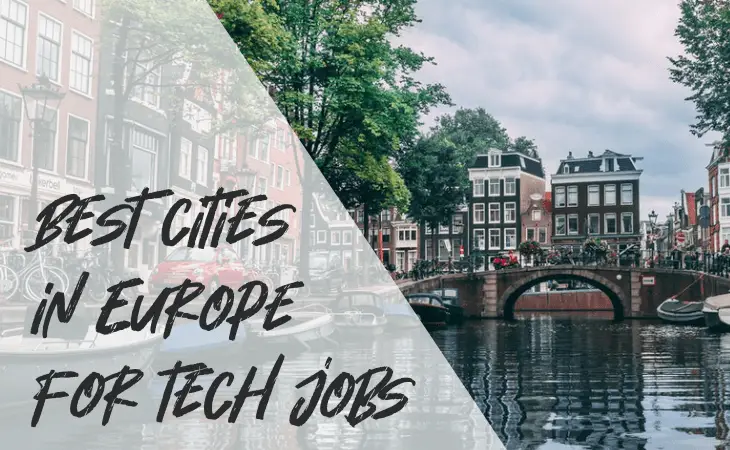 Curious about working as a software engineer in Europe? Discover 5 cities where you can earn a top salary: learn about the culture, explore the tech scene, and find out what it takes to move there.
It's no secret that the U.S. (and in particular the San Francisco Bay Area) is where you can earn the highest salaries globally as a software engineer.
But with long hours, less-than-generous PTO, and notoriously expensive healthcare, more and more American tech workers are starting to consider opportunities abroad—and with good reason.
The European tech industry is booming. From hyper-growth startups like GitLab, to profitable fintech like TransferWise, to IPO successes like Spotify, you can find innovation spanning all areas of technology.
And with that comes a high (and growing) demand for developers.
While salaries in Europe might look less impressive at first, don't forget to consider that lifestyle, work culture, and new experiences all play a part in your quality of life and overall happiness.
Plus, when you adjust for cost of living, you might just find the pay isn't so bad after all.
Top 5 European cities for tech jobs
1. Zürich, Switzerland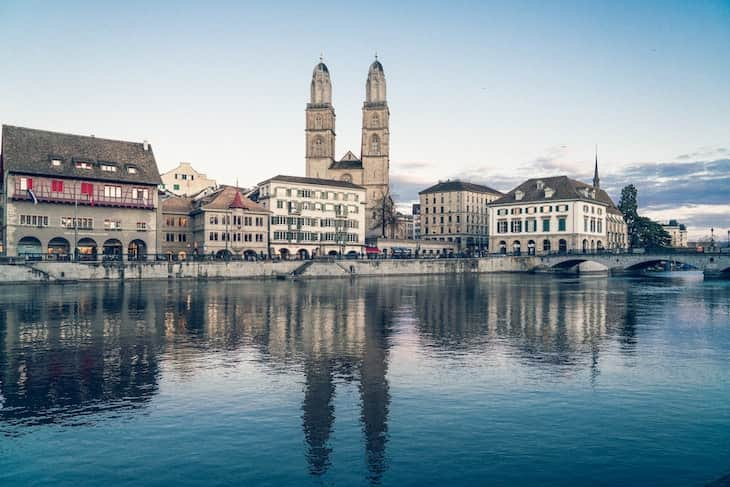 Average full-stack developer salary: 145,000 SF ($152,320)
Single person estimated monthly costs (rent, food etc.): 3,705 SF ($3,892)
Language: Swiss German, but English is widely spoken
Notable companies: GetYourGuide, Beekeeper, Ava, Teralytics
Switzerland is a mountainous Central European country, home to numerous lakes, villages and the high peaks of the Alps. The largest city, Zurich, while known as a global finance center, is increasingly becoming a tech hub as well.
Tech scene

The Zurich tech scene is home to a range of startups, in particular those with a focus on fintech, crypto and blockchain technology.

You'll also find many familiar names from Silicon Valley including Apple, Facebook, Microsoft, Samsung and Amazon, plus Google's largest engineering office outside of Mountain View—as well as Disney's only European base.
Quality of life

Although Zurich is one of the most expensive places to live in the world, it is still considered very livable due to its high salaries. It's the only place in Europe where tech salaries rival those found in the San Francisco Bay Area.

Workers are entitled to at least 20 vacation days a year, on top of public holidays, which makes Switzerland about average for holiday entitlement in Europe (but far better than the U.S.). And by law, the maximum a Swiss company can ask you to work is 45 hours a week.

Swiss cities consistently rank among the best places to live in the world, scoring especially high for personal safety, natural beauty and infrastructure. The rail network means cities like Milan, Paris, Frankfurt and Munich are accessible within four hours (weekend city break, anyone?). Zurich Airport also makes travel to London, New York and San Francisco easy.
How to move there

To be able to work in Switzerland legally, you need a Swiss work visa. The process of applying for a visa depends on your nationality; different rules apply for EU/EFTA and non-EU/EFTA citizens.

As a non-EU/EFTA citizen, the following conditions must be met:
You are a skilled and qualified worker with a university degree, several years of work experience, and specific expertise.
You already have a job offer in Switzerland.
There is no EU/EFTA citizen who could take the job.
There is space in the annual visa quotas.
The first step for most people will therefore be to find a job. Once your new employer is applying for your residence permit, you can then apply for your Swiss work visa in your home country.
Find out more: State Secretariat for Migration
2. Luxembourg City, Luxembourg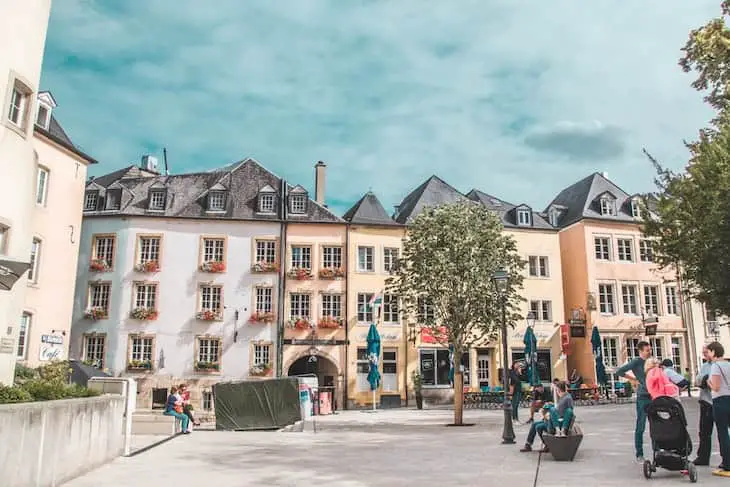 Average full-stack developer salary: €56,400 ($63,100)
Single person estimated monthly costs (rent, food etc.): €2,764 ($3,092)
Language: Luxembourgish, French and German (English is acceptable in professional settings)
Notable companies: Talkwalker, JobToday, Doctena
Luxembourg is a small, landlocked country bordered by Belgium, France and Germany. It's a prominent financial center in Europe today, but has an industrial history of steelworking.
Tech scene

With one of the highest investment levels in startups in Europe, the Luxembourg tech scene is thriving. The capital, Luxembourg City, is known as the VC capital of the EU, with most top venture firms holding an office there.

While there's a large fintech presence (as you might expect from the country's strong finance, banking and investment sectors), you can also find startups focusing on areas as diverse as real estate and yoga.
Quality of life

Luxembourg is known for its beautiful forests and medieval castles—and a high standard of living. Luxembourgers benefit from some of the most generous vacation allowances in the world—32 days of paid holiday per year, on top of national holidays.

Outside of work, you can experience nature through the many hiking or biking trails outside the capital. Or if wine tasting is more your thing, be sure to explore the vineyards of the Moselle region.

In an effort to alleviate traffic, as of March 2020, the government made all public transport—trains, trams and buses—in the country free. And if you feel like exploring neighboring countries, Belgium, France and Germany can all be reached from the capital in half an hour by car.
How to move there

Luxembourg is a both a member of the European Union, and a part of the Schengen Area. That means EU/EFTA citizens are free to travel to and work in the country, but non-EU/EFTA citizens will need a temporary 'authorisation to stay' document, a work permit, and then a residence permit.

You'll generally need a work permit (or evidence that your employer has applied for one for you) before you can apply for a residence permit. Your employer will have to prove that they could not find an EU national for the position. The first step will therefore be to network with employers, and secure a job offer in Luxembourg.

Find out more: Ministry of Foreign and European Affairs
3. Oslo, Norway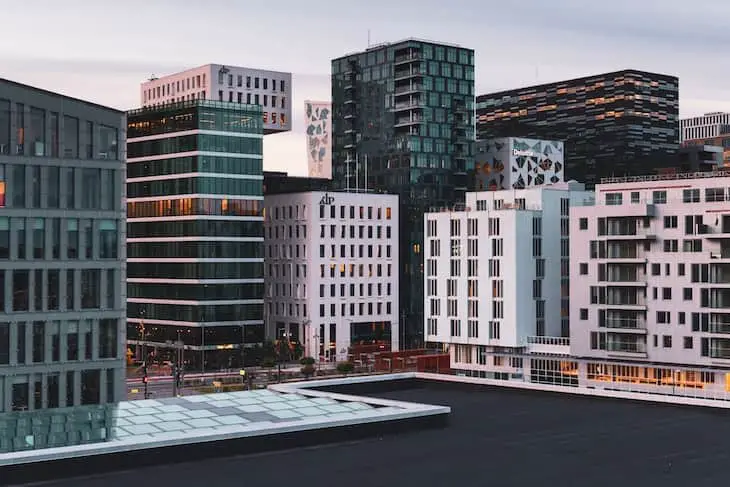 Average full-stack developer salary: 602,000 kr ($62,400)
Single person estimated monthly costs (rent, food etc.): 29,631 kr ($3,070)
Language: Norwegian and Sami, but English is spoken and understood by almost everyone
Notable companies: Telenor, Opera Software, Kahoot!, Schibsted Media
Norway is a Scandinavian country in Northern Europe. It shares a long eastern border with Sweden, is bordered by Finland and Russia to the north-east, and the Skagerrak strait to the south. It's known as the land of the midnight sun because certain areas of the country get 24 hours of sunlight for part of the summer.
Tech scene

Although your first thought at the mention of Norway might be mountains and fjords, it's also home to a bustling startup scene, due to technological innovation driven by government programs to provide startups with funding and support.

The Oslo tech scene is particularly known for its focus on sustainability. For example, Airtight is a startup which aims to reduce air leakage from buildings, thus lowering energy consumption. So if you're interested in green tech and saving the planet, Oslo would be a great city to aim for.
Quality of life

Norway is frequently ranked as one of the happiest countries in the world. This is largely thanks to robust social services like Universal Health Care and the Nordic welfare system. Not only does this give startup founders the chance to fail and know they won't starve; it also creates a sense of safety and security in Norwegian culture more generally.

Employers are required by law to offer at least 25 vacation days per year (many will offer 25-30 days), in addition to public holidays.

Oslo is a city of green spaces and museums, but there's plenty to explore outside the city too, particularly if you like fishing, hiking or skiing. You can visit Sweden by train from Oslo, or fly to many other destinations from Oslo airport.
How to move there

Norway is part of the European Economic Area, and is in the Schengen Area, but is not a member of the European Union. That means EU/EFTA citizens are free to travel to and work in the country (though you still need to register), but non-EU/EFTA citizens need a residence permit. To obtain one, you must meet the following conditions as a skilled worker:
You must have received a concrete job offer from one specific employer in Norway.
The job must normally be full-time. If you have been offered at least an 80 percent position, we will accept this.
The job you are offered must require qualifications as a skilled worker. You must have the qualifications that the job requires.
The pay and working conditions must not be poorer than is normal in Norway.
Find out more: The Norwegian Directorate of Immigration
4. Copenhagen, Denmark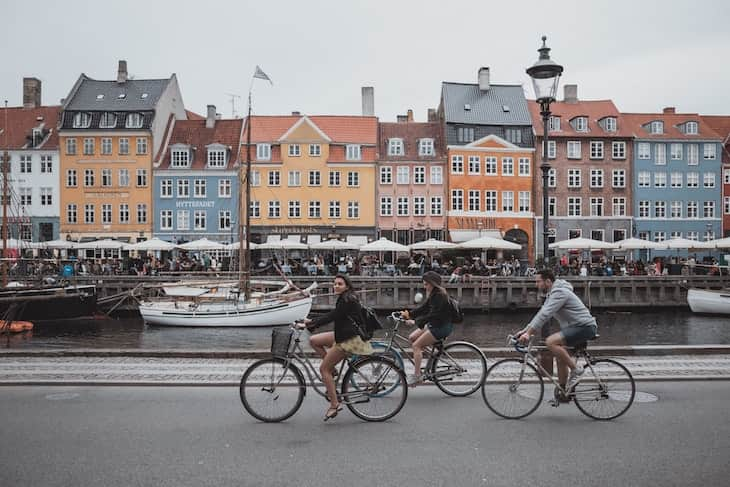 Average full-stack developer salary: 487,200 kr ($73,050)
Single person estimated monthly costs (rent, food etc.): 20,618 kr ($3,090)
Language: Danish, but close to 90% of the population can speak English
Notable companies: Adform, Sitecore, Momondo, SYBO Games
Copenhagen is the capital and largest city in Denmark, a Scandinavian country comprising the Jutland Peninsula and numerous islands. It's linked to Malmö in southern Sweden by the Øresund Bridge.
Tech scene

The city is no stranger to producing billion-dollar tech companies: Zendesk, Unity, Sitecore, Tradeshift and Trustpilot all originated here. It's also home to TechBBQ, the biggest startup and innovation summit in the Nordic region.

Plentiful coworking spaces, accelerator programs and government initiatives ensure Copenhagen continues to be a very startup-friendly city.
Quality of life

Denmark is an expensive country—but the standard of living is among the highest in the world. Everyone benefits from a well-functioning welfare system, which provides free education and healthcare among other benefits.

You are entitled to five weeks of paid holiday per year as an employee in Denmark.

Like the rest of Scandinavia, Denmark is known for high-quality design and architecture; in Copenhagen, you'll find castles and wooden maritime buildings alongside impressive modern architecture. And foodies will be pleased to learn it's also home to a great selection of fine-dining restaurants.
How to move there

Denmark is both an EU and Schengen Area member state. Citizens of the EU/EFTA do not need a visa, and nationals of other Nordic countries (Norway, Sweden, Finland or Iceland) can freely live and work in Denmark.

As a non-EU citizen, you will need a visa. The application process for a Danish visa is done entirely through the online immigration platform, but the first step will usually be to find a job since you will need a contract (or a promise of one) for the visa application.

When applying for a Danish visa, you are applying for a work and residence permit all in one. The only thing you need to do after getting your visa approved is to register in the country for your tax number.

Find out more: The Danish Immigration Service
5. Amsterdam, Netherlands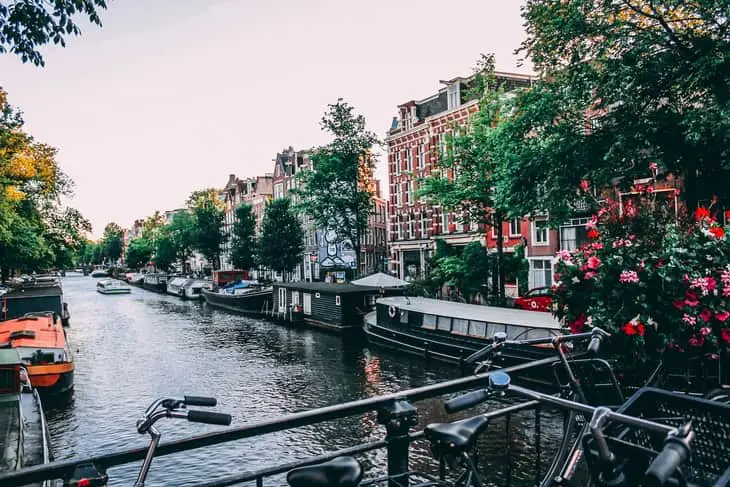 Average full-stack developer salary: €57,120 ($63,900)
Single person estimated monthly costs (rent, food etc.): €2,554 ($2,858)
Language: Dutch, but you can communicate in English pretty much anywhere and with anyone
Notable companies: Booking.com, Philips, TomTom, BTC.com
Amsterdam is the capital of the Netherlands, a country in northwestern Europe known for a flat landscape of canals, tulip fields, windmills and cycling routes. Although the city is famous for beautiful houses, 'coffee' shops and the Red Light District, it's also a thriving tech hub.
Tech scene

The Netherlands is one of the largest startup ecosystems in Europe. Amsterdam is home to a third of all startup jobs in the country, and you'll find startups tackling problems across the life sciences & health, fintech, enterprise software and travel/tourism industries.

Aside from home-grown startups, many leading U.S. technology companies have also established their European headquarters here, such as Uber, Netflix and Tesla.
Quality of life

Quality of life in the Netherlands is among the highest in the EU. One perk of working and living in the Netherlands is that, by law, an employee must receive holiday allowance (a gross payment of 8% of your total salary), as well a minimum of 20 paid vacation days per year.

Amsterdam itself is home to plenty of museums and art galleries, an elaborate canal system, a lively nightlife scene, and a strong cycling culture, so there's plenty to explore outside of work.

When you feel like venturing further afield, you have easy access to the rest of Europe via the Port of Amsterdam, Amsterdam Airport Schiphol and high-speed rail connections.
How to move there

The Netherlands is part of the EU and Schengen Area, meaning citizens from the EU/EFTA do not need a work or residence permit to move there.

For non-EU/EFTA citizens, the Dutch highly skilled migrant scheme (kennismigrant) is more lenient than the equivalent in many other countries. It's designed to allow Dutch employers to bring foreign professionals to the Netherlands, without having to prove that there are no suitable Dutch or EU candidates.

To qualify as a highly skilled migrant for work in the Netherlands, international applicants generally need:
Skills and experience that are relatively scarce.
A higher educational level (Bachelor minimum).
Some years of work experience.
Specialisation (for example in IT, engineering or science).
In order to apply for a Dutch highly skilled migrant visa, you must already have an employment contract in place—which means networking with Dutch companies to find a job first.
Find out more: Immigration and Naturalisation Service
Tips for software engineers considering a move to Europe

As you can see, there are certain visa requirements for working in Europe if you are a citizen of a country outside the EU/EFTA. The good news is that software engineering is considered a highly skilled profession, and is on the skills shortage list pretty much everywhere.
The EU Blue Card

An alternative to a country-specific visa for skilled workers is the EU Blue Card. It's a work and residence permit for non-EU/EFTA nationals, similar to the U.S. Green Card.

As well as being faster to obtain than many visas, the EU Blue Card also means you're not tied to just one country. EU Blue Card holders are allowed to move to most other EU countries to take up another highly qualified position.

However, you still need a valid work contract or binding job offer to qualify for it, and it's not always the fastest option. For example, the application process for a highly skilled worker in the Netherlands is among the most efficient the EU, so there would be no real benefit in applying for an EU Blue Card if your plan was to stay in the Netherlands. Be sure to research the best options for your country of choice.
Steps to move to Europe

Although moving country can be a complex and overwhelming process, it's more manageable when you break it down into a series of smaller steps.

Your plan of action will look something like this:
Identify which country (or countries) you'd like to work in
Find some companies you're interested in there, and which seem like a good match for your skills
Contact those companies to express your interest and find out if they would hire a non-EU/EFTA citizen
Go through their interview process
Apply for your visa or EU Blue Card
Move to Europe!
Sources:
https://www.salaryexplorer.com/
https://www.expatistan.com/